Important Things To Know About Live Edge Furniture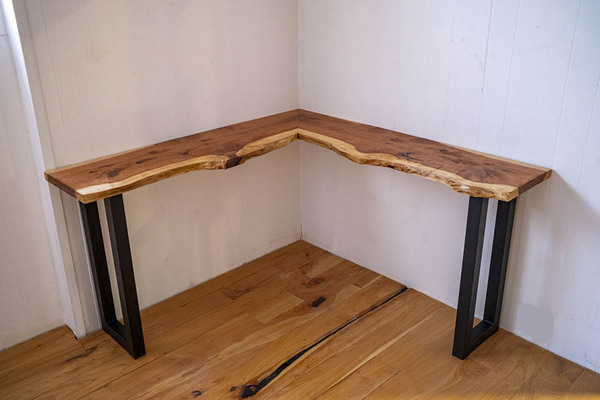 Live edge furniture is seemingly everywhere these days, from high-end custom crafted furniture to big-box bargain stores. Live edge furniture tends to be pricier than other types of furniture, so how do you know if the piece of live edge furniture you are considering purchasing is high-quality?
In the Greater San Francisco Bay Area, Arbor Upcycle helps you make the right decision with these important things to know before you invest.
Is the Wood Kiln Dried
The importance of proper wood drying is greater for large live edge slabs than any other wood. Unfortunately, it is often one of the most aspect by those looking to buy live edge furniture.
Many sawmills and wood producers jump into slab production without a kiln to fully and properly dry live edge slabs. Those who do have kilns often do not take the time needed to properly dry slabs. Be sure to do research. Educate yourself on the importance of kiln-dried live edge lumber before you make a live edge table purchase.
Single or Joined
When searching for your potential piece of furniture take note to see if it is a single slab or several slabs joined together. Single slabs of wood are rare. Imagine how old a tree must be to produce a single slab that is over three feet wide.
Be prepared to pay a higher price that will reflect the age and scarcity of a large live edge slab. On the other hand, live edge furniture that is comprised of several pieces of wood joined together is much less rare, obviously because the trees are likely younger, so this type of live edge furniture is usually much more affordable.

Thickness Counts
The thinner the wood is milled means there is a greater likelihood that your live edge table will be prone to warping and twisting. A reputable sawmill should be milling live edge slabs no less than three inches in thickness to account for the expected changes that occur in the wood during the drying process.
Avoid any finished live edge furniture piece that is thinner than one inch. Likely it was either cut too thin, was very warped initially, or that the woodworker had difficulty shaping the wood into the finished live edge table.
Type of Finish
Today, most live edge furniture pieces have a lacquer or oil finish. Though both finishes are suitable for live edge table finishing, the techniques to maintain or repair are different.
Lacquer is applied to the wood surface and then allowed to cure so it can harden and seals the timber. Oil enters the wood grain and strengthens the fibers of the lumber.
Lacquer is considered more durable, but that may not always the case. Lacquered live edge furniture is easier to maintain because you are essentially cleaning a sealed surface. However, lacquered surfaces are more difficult to spot repair.
 Oiled live edge furniture does require slightly more maintenance, as oil needs to be replenished periodically. This protection builds up over time and, as the surface is not sealed, these oiled pieces are easier to spot repair.

Overall Craftsmanship
High quality live edge wood furniture is not nailed but joined with double dowels or an assortment of joints. The wood should be well-sanded and the joints tight and firm on the inside. Drawers should slide smoothly, fit well in the frames, and have automatic stops and either side or center glide supports.
Inlays should be constructed of solid metal alloy or solid wood and are inset into the wood rather than painted or made of decals.
If the table base is constructed of metal, the welding itself should be inspected for cracks. In high quality live edge furniture, the weld is ground down so that it is not evident. Metal table bases should also be inset into the live edge wood tabletop rather than just joined in place thus creating a smooth, seamless line on the underside of the table.
Irrespective of your style, whether it is mid-century modern, minimalist, or rustic farmhouse, a piece of live edge furniture will be a standout in your home. With a little knowledge and research, you can find high quality live edge furniture and invest in a piece that will last for generations to come.  Arborist Upcycle knows satisfaction of creating something beautiful is priceless. Let us help you with your next project with one of our high quality slabs.
---