Upcycling Coast Redwood for our Local Firefighters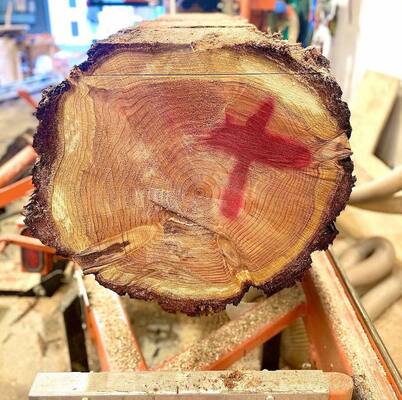 X marks the spot with these Coast redwood trees!
The exact spot where these Coast redwood trees once stood was at the Menlo Park Fire District Station No. 4 in West Menlo Park, CA, a neighborhood just South of San Francisco, CA. The trees were removed on January 21, 2021 by our certified Arborist Now, Inc. climbers and brought directly to our Arbor Upcycle warehouse to be processed.
Our Arborist Now team only removes trees that have to be removed for various reasons. Sustainability is a top priority of both Arborist Now and Arbor Upcycle. In this particular case, the Menlo Park Fire District Station No. 4's building is getting completely torn down and rebuilt this year. These Coast redwood trees were in the way of their plans for the reconstruction and unfortunately needed to be removed because of it. However, the Menlo Park firefighters could not let the trees go to waste and become mulch. Instead, they reached out to us to help salvage the trees and keep their history and soul alive!
After the trees were dropped off at our warehouse, we milled the logs into 13/4 quarter inch slabs with a few large rounds. Coast redwood are extremely porous and tend to dry faster than most other species, so these slabs should be able to air dry on their own in about a year. However, we plan to put them in our large kiln so they can fully dry in almost a quarter of the time.
We will only begin to work on slabs that are completely dry or they risk the potential of warping and moving over time - ruining a finished project. Our standard for dry slabs is about a 13% or lower wood moisture level. Once the slabs are fully dry and able to be worked with, the two trees will be repurposed into tables and smaller items that will eventually make it back to their original home in the newly built fire station.
We are so thrilled to be able to help our local Menlo Park Fire District Station No. 4 firefighters upcycle and repurpose their Coast redwoods trees!
---